MCAT Noteboard: Enemy or Friend? Tips and Advice ('MCAT Whiteboard')
Some students are surprised to receive a laminated notepad and a marker ("wet-erase pen") instead of scratch paper with a pen or pencil when they take their computer-based MCAT at Pearson VUE. A few tips and a little familiarity with your new exam tool will help you to treat it like a friend and not like your enemy!
What does the noteboard look like?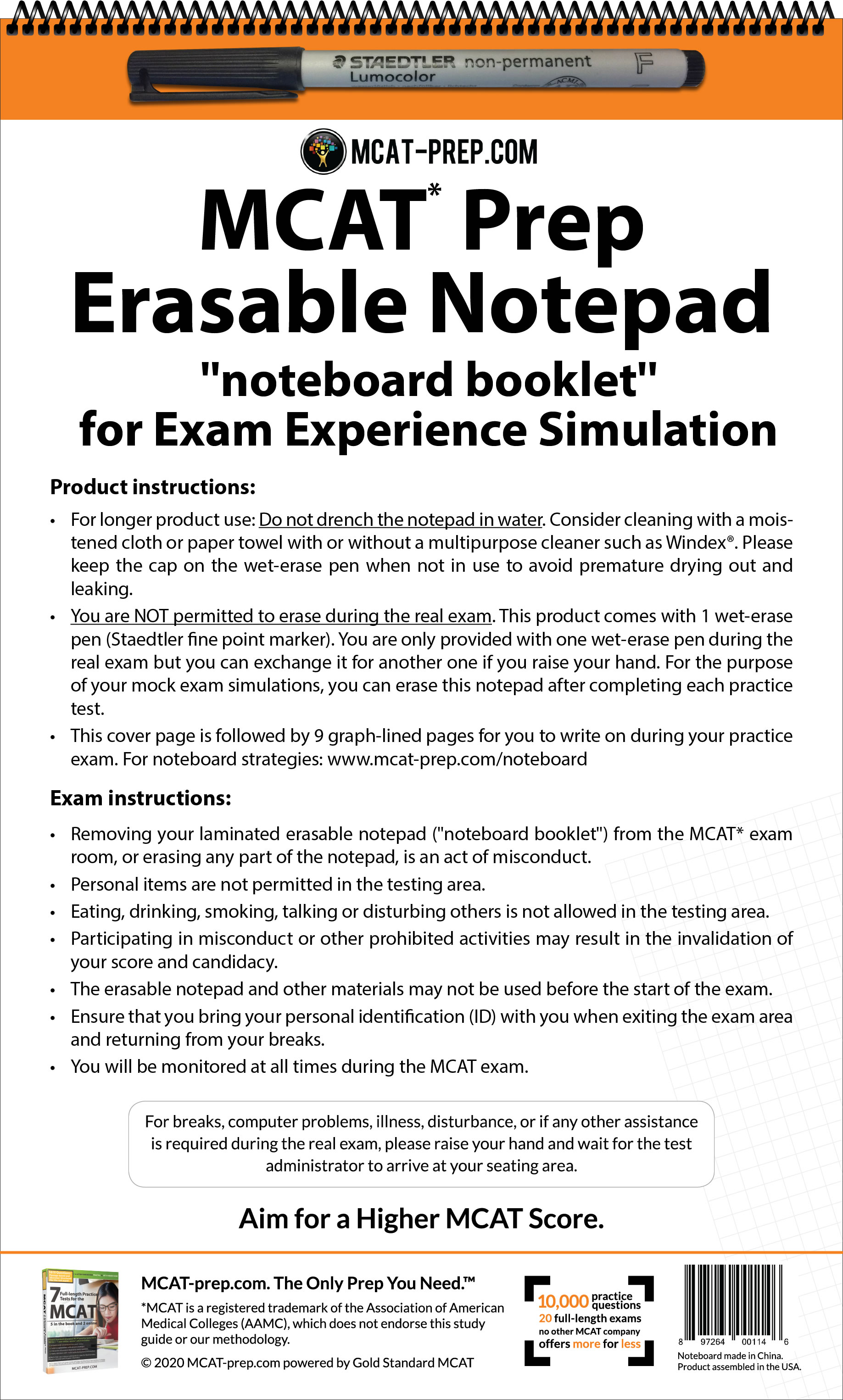 Click Image to Enlarge a Simulation!
The current booklet is laminated, 8.5" x 14" with spiral binding (AKA, MCAT scratch pad). The printing is double-sided composed of a cover page and 9 pages with graph paper. You are also provided with 1 fine point marker: a Staedtler Lumocolor non-permanent marker. All of your calculations and notetaking must be done in your booklet.
What if I run out of space or my marker dries up?
Raise your hand! If you require an additional marker or noteboard during the exam, raise your hand to alert the test center administrator, and they will make an exchange providing you with a new one.

Of course, it is preferable not to waste precious exam time waiting for an administrator to arrive! A simple tip: Always cap your marker when not in use so that the risk of drying out or leaking is minimized. You should have ample space with 1 noteboard but, just to be sure, use your space efficiently.
So it's "wet erase," does that mean that I'm allowed to erase?
No! Despite being a "wet-erase" marker and an "erasable notepad," do NOT lick your finger and erase during the real MCAT! It is considered to be an act of misconduct. If you make a writing error, just cross it out and continue on another line.

Additionally, you may not rip or separate the notepad or try to conceal or remove any part of it.
Any suggestions to make my MCAT noteboard experience more friendly?
Two words of advice: Brain dump! Once your exam section begins, write down all the pertinent equations that you can remember or the 1-letter amino acid abbreviations or any other relevant information that you have identified during your MCAT prep. Doing so adds a sense of familiarity and comfort as you start attacking the questions, and it may increase your overall time efficiency.

The erasable notepad and marker may not be used before the start of the exam.

More tips: Delineate your writings by drawing lines separating work done for different questions. Consider writing the question number in a circle. With these simple techniques, your work becomes more clear which reduces the risk of error and permits you to review your work at the end of that section, if time allows.

Of course, everyone is different: some students barely use their noteboard while others almost fill one up.
Are left-handed people at a disadvantage?
For the most part, not really. On the other hand (he he), left-handed people whose palms sweat excessively when nervous will have set the conditions for instant wet erase! But to be practical, most people's palms won't sweat that much and so a little smudging is more likely than real-time erasure!
How can I get an MCAT noteboard to practice with?
Easy! Improvise, make one or buy one!

Although it's not exactly the same as laminated graph paper, some students just purchase a small whiteboard ($6-$10) and fine point marker (Staedtler; $2-$4 each) from Walmart, Staples or Office Depot. However since a whiteboard is not always easy to clean, others would get a local photocopy shop to laminate some 8.5" x 14" graph paper. Some students just don't want to get used to doing calculations on paper!

Kaplan and Princeton Review provide a noteboard simulation for their MCAT students. MCAT-prep.com includes a noteboard with a Staedtler marker for its home study MCAT prep packages. You can also purchase the MCAT Noteboard on Amazon.com for $19.99 or less (available separately).
How can I optimize the use of my MCAT simulation noteboard at home?
Unlike during the real MCAT, you can erase your erasable noteboard at home! However, after each practice exam section, you may want to take mobile phone pics of your work for later practice test assessment before erasing. Then you can start each new exam section with a clean notepad to further simulate the real exam.

Don't clean your noteboard in a bathtub! Water will seep in between the lamination and make it unusable. Clean it gently with a damp cloth or paper towel. Some students find that the marker stains the lamination over time. That will usually clear up with a multipurpose cleaner like Windex®.

Some students give up on their practice markers really quickly! If you made the mistake of not capping it when not in use and it seems dried up, try writing on some regular paper and, more often than not, your marker will be resuscitated! Of course, you are not allowed to do that during the real exam, so just raise your hand and you will get a new one.
Conclusion?
Of course, knowledge and problem-solving skills are essential for MCAT success. However, your MCAT noteboard can serve as a friendly companion on test day.

Good luck!
---
---